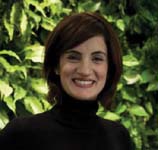 CORIANO DI RIMINI 18 July 2012
We are very pleased to announce that Amelia Carùs Aznar has joined the company as our Product Manager. Amelia has been with our distributor in Venezuela for the last eight years, and brings long experience in cosmetic ingredients and extensive knowledge of the Akema product range.
Amelia will be in charge of customer care, product promotion and marketing, and of developing our distributors network worldwide. We are delighted to have a person of her quality and expertise in our staff and we trust she will contribute to enhance further the cooperation with our customers.